Materials for Week of Prayer for Baptist Associations/John & Kathleen Christian Offering
Click below to download the PDF files for promotional resources:
Upcoming Events…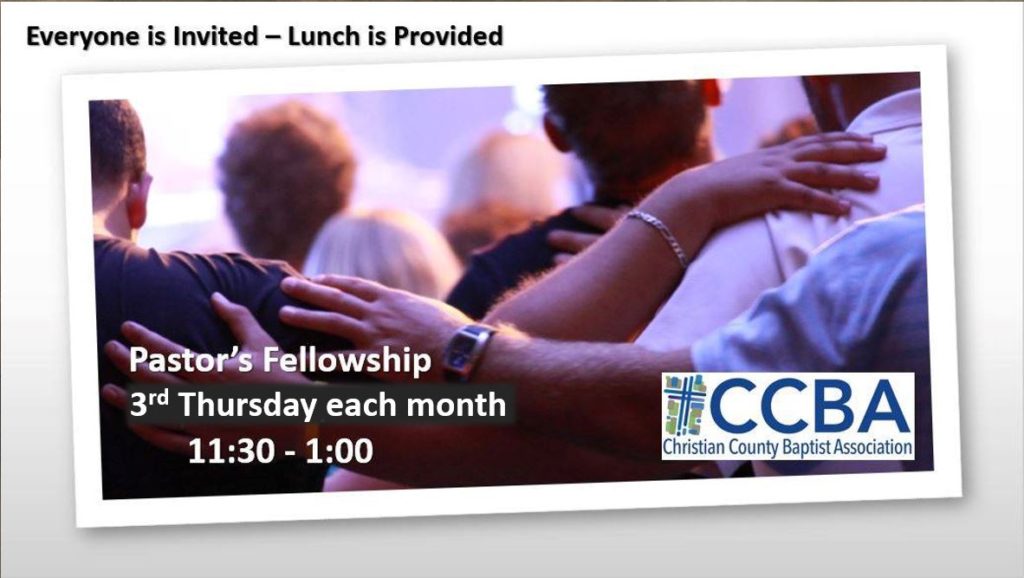 The NEXT Pastor's Fellowship
September 19, 11:30am – 1:00pm
at the CCBA office
905 North Drive, Hopkinsville
It is time again for the Annual Church Profile.
The following list of REQUIRED reports are completed ELECTRONICALLY via the Southern Baptist Convention (SBC) Database program -https://ky.sbcworkspace.com:
Survey – ACP Statistics Report
Survey – Leadership Profile
Survey – Supplemental Survey
VBS Survey Report
Directions have been mailed to each church. If you have not received one yet, please contact our office immediately.
We request that all surveys be completed and submitted
no later than Friday, August 30th – NO EXCEPTIONS.
Kentucky Baptist Convention and the Kentucky WMU along with Baptist Associations in Kentucky are partnering together to provide children in need backpacks at Christmas time. Please click on either side to go to the link and find out more how you can participate in this project.
CCBA will be a drop-off site. We have a goal of receiving 500 backpacks.