Block Party Trailer
What is a Block Party?
A block party is an evangelistic event hosted by a church, or a group of churches. It can be held on your church parking lot, a public park, a lot in a subdivision, or in a mobile home park. It provided wholesome family oriented activities designed to attract unchurched families with children and youth. Through block parties, churches can discover many new prospects, make a positive impression in the community, and share a direct witness with those that attend.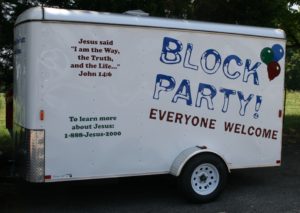 What Kinds of Equipment Does it Contain?
The Block party trailer contains canopies, tables, games, refreshment equipment (i.e. popcorn and snow cone machines) , generator (for sites w/o electricity) and sound equipment. It provides for quick and easy set up and tear down in any location.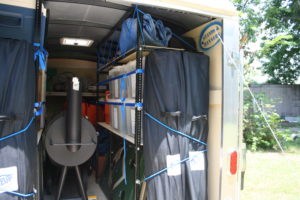 Who is Able to Use the Trailer?
The Block Party Trailer may be used by member churches and missions of the Christian County Baptist Association.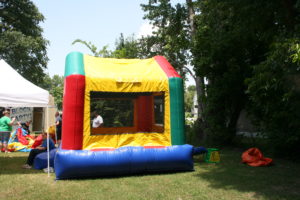 How Will We Know How to Use It?
You can receive training when another church is using the trailer. Join them and learn how it is set up and how it is disassembled and packed into the trailer. In order to use the Block Party Trailer and equipment your church must have at least two people who have received the training. For more information on trailer usage policies, click here.