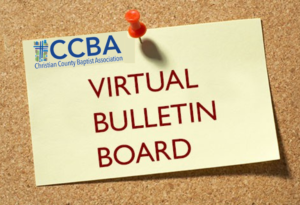 Worship Attendance: 25-75
Position (Part-Time): Worship Leader
If you are interested in applying for this position, please submit a cover letter — including personal testimony and desire for this position — as well as a current resume to terrywjoiner@gmail.com.
Ability to lead by playing the guitar or piano preferred.
———————————————–
Church: Calvary Memorial
Worship Attendance: 150-175
Position (Part-Time): Associate Pastor of Administration
The Administrative Pastor is asked to shepherd God's people, working closely with the Lead Pastor as he assumes the responsibility to administrate and execute the ministries of the church in alignment with the mission and vision of Calvary. Primary areas of responsibility are pastoral leadership, strategic planning, financial management, business administration, human resources, operations management, and organizational development.
If you are interested in applying for this position, please submit a cover letter — including personal testimony and desire for this position — as well as a current resume to adamandkathyglover@hotmail.com.
————————————————-
Church: Edgewood
Worship Attendance: 500-600
Position (Full-Time):
Student Pastor
The ideal candidate meets the biblical qualifications for pastors found in 1 Timothy 3 and Titus 1 and is passionate about building relationships with middle and high school students, church members, and neighbors. He demonstrates a commitment to teaching and applying the Word of God in culturally relevant ways. He works well with others and is glad to serve alongside other pastors in the church and in the community. He has a kingdom-first mindset and sets an example of hard work and dedication for those he is discipling.
Interested candidates should submit a PDF cover letter and resume, along with any other documents demonstrating their fitness for the position, by June 15, 2022 to brandon@edgewoodbaptistchurch.org
Qualifications:
Must meet the biblical standards for a pastor

Must affirm the Baptist Faith & Message

Must agree to have both background and credit checks performed.

Must be pursuing or willing to pursue accredited biblical education.
Anticipated Responsibilities:
Pray regularly for the church

Engage in regular Bible study and preparation for teaching at various gatherings of the church.

Live an exemplary Christian life

Teach and model God's Word in a way that is biblically accurate and culturally relevant.

Foster, promote, and actively participate in student events and recreational activities that provide spiritual growth and fellowship.

Utilize a well-rounded communication/engagement plan (email, text, social media, etc.)

Work with the Minister of Music and Media to engage students in music and tech service

Be available to counsel and fellowship with the students of the church

Encourage and connect the students to the body and life of the church

Help students with the transition from student ministry to church-life, post-graduation.

Relate the needs of students to the church.

Motivate, instruct, and coordinate the activities of volunteers.

Participate in student events or mission activities with other churches.

Train students and church members in evangelism and community outreach.

Promote and coordinate regular church-wide community outreach events.

Assist the church, small groups, and individual disciples with community engagement.

Be involved in the community according to interest and opportunity

Serve on committees and ministry teams as needed

Preach and teach as needed

Other duties as needed.
————————————————-
Church: Henderson Memorial
Worship Attendance: 100-130
Position: Youth Minister
Job Description/
Responsibilities:
searching for a self-starter/energetic person, male or female
This person will be responsible for creating a youth program, grades 6-12, from ground zero and working alongside the staff to reach families as well as youth. This is a bi-vocational position.
If you are interest and feel lead to take on this God size task, send resume' to:
Henderson Memorial Baptist Church
501 Noel Ave.,
————————————————-
Church: Hillcrest
Worship Attendance: 500-600
Position: Young Adult Pastor
Job Description/
Responsibilities:
T

he Young Adult Pastor position will be responsible for ministering to Adults aged 18-28. This is a bi-vocational position.
Church: Little River
Worship Attendance: 25-50
Position: Piano Player for Sunday morning worship
Job Description/
Responsibilities:
Church: New Palestine
Worship Attendance: 40-60
Position: Part-time Worship Leader
Job Description/
Responsibilities:
New Palestine Baptist Church is looking for a part-time worship leader for their Sunday AM service. Looking for
someone that plays guitar and/or piano. This is a paid position. Call 270-889-7192 for more info
————————————————-
Church: Princeton Street Missionary Baptist
Worship Attendance: 50-75
Position: Bi-vocational Pastor
Job Description/
Responsibilities:
seeking a passionate and engaging pastor who has received the call to serve the body of Christ as a Bi-Vocational Baptist Pastor.
Ideal Candidate: We are looking for a licensed and ordained preacher of God's word,with 4 years+ experience, be spiritually mature, teach the Gospel, a visionary, versatile, can handle conflict resolution, and is tech savvy.
General Responsibilities: Prepare weekly sermons, preaching and conducting worship services, and shepherd God's people. Be a people person with good communication skills. Build relationships with everybody.
Worship
Maintain a vital relationship with the Lord

Coordinate with Minister of Music, Deacons, or necessary member(s) around all worship services

Sunday morning service

Weekly bible Study

Interpret biblical scripture for the congregation.
Discipleship
Identify, recruit, equip, resource, and evaluate volunteers, ministry department leads, etc.

Oversight of Church Meetings and other activities

Provide care and counseling to church members and assist them in crisis situations.
Administrative
Communicate with Staff, Congregation and Community

Attending meetings and coordinating with staff and/or volunteers

Informing the congregation about events via email, newsletter, texts, etc. through Church Secretary

Aid in the evaluation, and maintenance of the annual budget for Church in collaboration with the Financial Team.

Other duties as assigned.
Each candidate is asked to complete and return the following:
• A cover letter including an affirmation of your faith and why you feel that you are being led to respond to this vacancy at Princeton Street Baptist Church.
• A resume
• Copies of license, ordination certificate, degrees, certificate of any other education training.
• Three letters of recommendation (clergy, layperson, and personal)
Submit all requested material to Princeton Baptist Church 197 E. Princeton St. Crofton, KY 42217 or princetonstreetcrofton@gmail.com by June 30, 2022 to be considered. All information received will be deemed "confidential" and will only be shared with appropriate members of the Pastor Search Committee members as needed during the decision-making process.
If you have any question, please contact Deacon Derrick Hickman (270)484-0635, Deacon Gregory Owen (270)484-0076 or Deacon Marcus Johnson (580) 284-9336.