Disaster Relief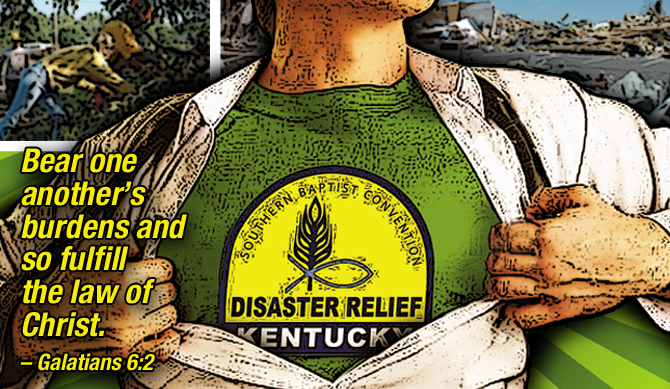 Disaster Relief is a ministry of the Christian County Baptist Association (CCBA) but within the Kentucky Baptist Convention.
"Kentucky Baptists are part of a larger network of Southern Baptist volunteers trained to respond to disasters by manning mass feeding operations, using chainsaws to clear downed trees and limbs, clear mud out of flooded homes and more. Southern Baptist disaster relief volunteers work in conjunction with other organizations such as the Salvation Army, the American Red Cross and the Federal Emergency Management Agency. As a whole, Southern Baptists compose the third largest relief organization in the United States." (Excerpt from KBC website)
About Kentucky Baptist Disaster Relief
When disaster strikes, some of the first to respond with help are Southern Baptist disaster relief volunteers. Kentucky has an active disaster relief program that works in concert with similar programs in other states. Whether the disaster occurs in Kentucky or elsewhere in the nation or the world, Kentucky volunteers may be called out to assist. This means trained volunteers from the CCBA churches may be called out to assist as well. Within the CCBA, our trained volunteers work in many areas from flood assistance, to home repair, to operating chainsaws after strong storms and fire recovery. The CCBA has the following unique capabilities:
DISASTER RELIEF RECOVERY UNIT
Shortly after the April 2nd Tornadoes of 2006 in Christian County, KY, a group of individuals began the process to form a local disaster relief team for Christian County. Through donations from individuals and churches, in 2006 CCBA was able to purchase a trailer to be used as a recover unit for chainsaw, mudout and other disaster occurrences. To date our unit and volunteers have responded to many requests for assistance from Sturgis, KY; Todd Co. Church; Wapello Missouri; Springfield, Missouri; Muhlenberg Co., KY; Worthington, Indiana and Christian County during the April 2006 Tornado and the January 2009 Ice Storm. In 2009 there were CCBA team members who participated in the recovery efforts in Louisiana and Texas from Hurricane Gustav and Hurricane Ike.
DISASTER RELIEF SHOWER TRAILER
In 2007 a Shower Trailer Unit was added. In September 2007, at the Christian County Baptist Association Annual Meeting, the Disaster relief team committee was recognized as a new ministry.In July 2008 the Shower Trailer unit was being transported to a call out for Iowa flooding and was destroyed due to high winds. In late 2008 an anonymous donor provided a generous donation to CCBA to purchase a replacement. The new unit went on its first call-out in the Summer of 2010 to assist flood victims in Eastern Kentucky.
DISASTER RELIEF CHILDCARE UNIT
A Disaster Relief Childcare Unit has been added to the fleet of CCBA Disaster Relief operations. This unit will be available to go into areas and provide childcare for the children of disaster victims. The construction process is almost complete on the trailer and the finishing touches are being done on the inside.
DISASTER RELIEF WATER PURIFICATION SYSTEM
The Water Purification Trailer, the newest addition to the CCBA Disaster Relief, allows trained individuals to go into an area where the water systems may have been compromised due to damage from a natural disaster and convert potable water into clean drinking water for the community affected.