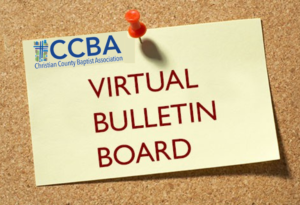 Worship Attendance: 25-75
Position (Part-Time): Worship Leader
If you are interested in applying for this position, please submit a cover letter — including personal testimony and desire for this position — as well as a current resume to terrywjoiner@gmail.com.
Ability to lead by playing the guitar or piano preferred.
———————————————–
Worship Attendance: 35-45
Position: Pastor
The pastor search committee request anyone who feels called by God to serve as pastor for Bethel Berry, to submit an application with additional requested documents (click this link to download:
Bethel Berry Pastor Application
)
Applicants can submit completed documents to a member of the Bethel Berry Pulpit Committee: Veronica Buckner, Ronny Clark, Dorothy Edmonds, Shannon Killebrew or Valerie Singleton

OR

mail completed applications to: Bethel Berry Missionary Baptist Church, Attention Pulpit Committee, 6975 Old Madisonville Road, Hopkinsville Kentucky 42240. All applicant information should be submitted or postmarked no later than May 10, 2023.
————————————————
Church: Henderson Memorial
Worship Attendance: 100-130
Position: Youth Minister
Job Description/
Responsibilities:
searching for a self-starter/energetic person, male or female
This person will be responsible for creating a youth program, grades 6-12, from ground zero and working alongside the staff to reach families as well as youth. This is a bi-vocational position.
If you are interest and feel lead to take on this God size task, send resume' to:
Henderson Memorial Baptist Church
501 Noel Ave.,
————————————————
Church: Little River
Worship Attendance: 25-50
Position: Piano Player for Sunday morning worship
Job Description/
Responsibilities:
Church: New Palestine
Worship Attendance: 40-60
Position: Part-time Worship Leader
Job Description/
Responsibilities:
New Palestine Baptist Church is looking for a part-time worship leader for their Sunday AM service. Looking for someone that plays guitar and/or piano. This is a paid position. Call 270-889-7192 for more info.