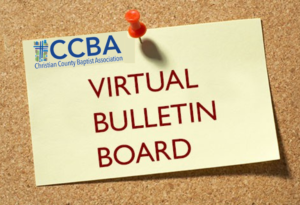 Worship Attendance: 25-75
Position (Part-Time): Worship Leader
If you are interested in applying for this position, please submit a cover letter — including personal testimony and desire for this position — as well as a current resume to terrywjoiner@gmail.com.
Ability to lead by playing the guitar or piano preferred.
———————————————–
Church: Concord
Worship Attendance: 200-300
Position:
Full-time Associate Pastor/Student Minister
Concord Baptist Church is located in Christian County in Western Kentucky. The mission of our church is to be a Christ centered, worship driven and community focused fellowship to connect people to Jesus Christ, near and far. Concord Baptist Church is affiliated with the Kentucky Baptist Convention, Southern Baptist Convention and Christian County Baptist Association with Sunday AM attendance of 250-300 people. Currently the youth program is reaching 25-30 youth weekly.
Qualifications:
College training (Seminary training, but not mandatory)

Meet the qualifications for a pastor (1 Timothy 3:1-7, Titus 1:5-9, 1 Peter5:1-4) and possess a shepherd's heart for the local church.

Be committed to the theology, mission, culture, and worship philosophy of Concord Baptist Church.

Understand and adhere to the Baptist Faith and Message 2000.

Be a self-starter and display a strong work ethic.

Be a team player and always display a positive attitude.
Pastoral Responsibilities:
Assist the Senior Pastor by serving as a partner in planning and coordination of current and future church goals, both short-term and long-term.

Participate with the Senior Pastor in routine pastoral care (shepherding the flock and visitation efforts.)

Work with various staff members and committees.

Maintain regular office hours.

Perform other ministry related duties as may be assigned by the Senior Pastor.
Youth & Student Minister Responsibilities:
Develop and implement programs that attract students to Christ and promote their spiritual growth. Include fun activities on a regular basis.

Develop meaningful relationships with students, being available to offer support and counseling when needed. Develop meaningful relationships with parents of the students to keep them informed and involved in the student ministry.

Develop and coordinate the work of the student ministry that involves students in the life and ministries of the church.

Develop and administer a program of active outreach to the students in our community.

Develop and administer programs to recruit and equip adults to work with our students.

Plan and coordinate special events that touch our students at various levels of spiritual maturity. (Example: retreats, camps, mission projects.)

Prepare and administer an annual budget for the student ministry that is reflective of the goals and objectives of the ministry.

Work with the other Team Members on mid-week services.
Resumes will be received through May 31, 2023
Please direct all resumes by e-mail to: dlh744@att.net.
Resumes may also be mailed as follows:
Concord Baptist Church
Attn: Search Committee
1945 Concord Lane
Hopkinsville, KY 42240
————————————————
Church: Henderson Memorial
Worship Attendance: 100-130
Position: Youth Minister
Job Description/
Responsibilities:
searching for a self-starter/energetic person, male or female
This person will be responsible for creating a youth program, grades 6-12, from ground zero and working alongside the staff to reach families as well as youth. This is a bi-vocational position.
If you are interest and feel lead to take on this God size task, send resume' to:
Henderson Memorial Baptist Church
501 Noel Ave.,
————————————————-
Church: Kelly
Worship Attendance: 90-120
Position: Associate Pastor of Students and Families (part-time)
Kelly Baptist Church is looking for an Associate Pastor of Students and Families. Our Church is looking for a man who feels called to the ministry to teach the word of God, disciple individuals, and lead others to Christ. This person would be responsible for leading the Youth Ministry, Children's ministry and assist in the organization of a college and Young Adult Ministry. Kelly is a great place to worship, a great place to visit, and it is a great place to call home.
Job Description/
Responsibilities and
Recommended Qualifications:
Minister and his wife must become church members.

Be ordained or be willing to be ordained.

Have a clear heart for Ministry and a clear calling to Ministry

Have or willing to seek some biblical pastoral training

Pass regular Background Checks (self and spouse)

Hold to the views stated in the "Baptist Faith and Message 2000"

Commitment to the mission, doctrine and vision of Kelly Baptist Church

Work alongside leadership of Pastor and Youth and Children Committee

Attend all regular Church services

Lead and maintain a Youth Ministry that develops and disciples youth who currently attend Kelly Baptist, develop and implement a strategy for bringing in new youth into Kelly Baptist Church, and provide pastoral care to youth and their families as the opportunities arise.

Help plan Youth Outreach Events and help provide leadership in Community Outreach Events

Help manage and advise on Youth and Children's Budget.

Attend all scheduled Youth & Children Committee Meetings

Help in the creation of a College Age/ Young Adult Ministry.

Fill Pulpit (as needed)

Grow in pastoral ministry.

Oversee the coordination of and make every effort to attend all Youth and Children's activities (such as VBS, youth trips, mission trips, off-campus outreach, camps, concerts, etc.)

Build relationships with youth and families (attend games, school activities, etc.)

Have and implement a strategy to connect with the families of youth and children in attendance

Help facilitate a plan to reach families, in particular young families.

Help train and equip others for youth and general evangelism.

Maintain an Active Prayer life
BENEFITS/LEAVE TIME:
Vacation Leave – Two weeks after 90 days of service (and can be evaluated regularly)

Sick Leave – Up to two weeks sick leave (to be used for sickness only) upon approval by the pastor.

Salary Based on Experience
Interested persons are encouraged to submit a resume':
By Mail –
Kelly Baptist Church
ATTN: Associate Pastor Search Committee
7683 S Madisonville Rd,
Hopkinsville, KY 42240
By Email –
For More Information – Call 270-885-9952
————————————————
Church: Little River
Worship Attendance: 25-50
Position: Piano Player for Sunday morning worship
Job Description/
Responsibilities:
Church: New Palestine
Worship Attendance: 40-60
Position: Part-time Worship Leader
Job Description/
Responsibilities:
New Palestine Baptist Church is looking for a part-time worship leader for their Sunday AM service. Looking for
someone that plays guitar and/or piano. This is a paid position. Call 270-889-7192 for more info